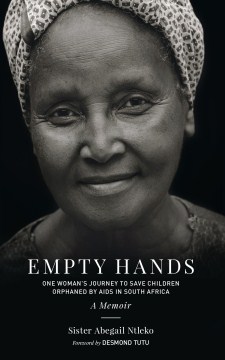 Empty Hands: One Woman's Journey to Save Children Orphaned by AIDS in South Africa by Sister Abegail Ntleko
Reviewed by: Dawn Dickey, Reference Specialist
Genre: Autobiography
Suggested Age: Teens, Adults
What is the book about?: Empty Hands tells the story of Sister Abegail Ntleko, a nurse and health activist who was born into an impoverished family during the time of apartheid in KwaZulu-Natal, South Africa. The second youngest of 13 children, Abegail's mother died when she was about 3 ½. The remaining children were then split up, and soon, at a very young age, Abe found herself the sole caretaker of herself and her father, cooking, washing, tending to animals and crops. Abe has an intense desire to help people, and she wants to become a nurse, but her traditionally minded father does not believe in education for women. Finally entering first grade at age 14 when her father relented on Abe's education, she went on to graduate from nursing school, adopting the first of her dozens of children while still studying nursing. Sister Abe brought together many people and resources to provide rural health care services. When the AIDS crisis hit, Sister Abe was in the thick of it, advocating for better training and education about the disease and offering care and comfort to the sick and survivors by providing or finding "psychological, medical, and legal assistance." Sister Abegail received the Unsung Heroes of Compassion award from the Dalai Lama in 2009.
My Review: This is a powerful story, told in Sister Abe's own matter-of-fact language. Despite innumerable obstacles, Abe worked tirelessly to help others throughout her long career, even through heartbreaking times when her own children died of AIDS. Early on in the retelling of her life story, Abegail introduces us to the concept of ubuntu, the "Zulu understanding that you are a person because of other people, and it is the reason for your helping others and others helping you. . . . a natural sense that we are all in this together, a sense of belonging to a community, that by doing for others, you help yourself." This understanding seems to be Sister Abe's foundation for the remarkable work that she did. What an exceptional woman!
Three Words That Describe This Book: inspiring, uplifting, humbling
Give This a Try if You Like…  real life heroes.
Rating: 5/5
About FDL Reads
Welcome to FDL Reads, weekly book reviews from Fondulac District Library.  Librarians (and possibly some other guest reviewers) review all types of books, from children's picture books, young adult favorites, to the latest adult thriller, and share their thoughts each week at fondulaclibrary.org. If the book is owned by Fondulac District Library (or another local library), you'll see a direct link to the catalog entry and whether or not it is available.  If it is checked out or at another local library, you will be able to place a hold as long as you have your library card and PIN numbers. As with any book review, these are our opinions…we disagree amongst ourselves about books frequently.  We all have different likes and dislikes, which is what makes the world an interesting place. Please enjoy, and keep on reading!