2017 Summer Reading Program "Reading By Design"
Another successful summer reading program is in the books.  This year we had over 1000 participants!  We would like to thank the businesses and civic organizations who donated to the program and to all who participated.
1KB4K: 1,000 BOOKS BEFORE KINDERGARTEN
1KB4K is a library initiative that promotes reading 1,000 books to preschoolers before they begin Kindergarten. It's easy to do, and the child gets a free book every time they read and report 100 books. For additional information or to register, visit the Youth Services Department.
Anytime Activities
Even when there's not a program scheduled, there's always something fun to do at the library! Stop by the desk in the Youth Services Department to learn more about the library's current Anytime Activity, a craft, game, or project kids can do whenever they visit the library.
Toys & Games
Numerous toys and games are available for your child to play with in the library's Youth Services Department. The library offers a wide selection of board and card games, as well as a train table, Lego table, puzzles, and a puppet theater. Stop by and enjoy a delightful and entertaining morning or afternoon at the library!
Help Your Preschooler Succeed In School
According to United Ways Success By Six Program, parents are a child's first and most important teachers, and future academic success begins at home. By actively participating in their child's early education, parents can increase their child's performance, growth, and reading and writing skills. Below is a link to monthly activities to help your child on the road to success.
We're just a click away!
Susan Elder, Youth Services Manager
Fondulac District Library's Story Times feature a different theme every week and include songs, flannel board stories, and crafts, in addition to great books! Story Time is a great way to introduce your child to new friends and encourage early literacy. View the details below or click here to see the Story Time Calendar.
WEEKDAY STORY TIMES
September 11-November 17
Little Listeners • 4-6 years old • Mondays at 10 a.m.
Together Time • 2-3 years old & adult • Tuesdays at 10 a.m.
Family Story Time • 2+ years old & adult • Tuesdays at 1 p.m.
Tiny Tot Time • 1-2 years old & adult • Thursdays at 10 a.m.
Baby Lapsit • Birth-1 year old & adult • Fridays at 10 a.m.
OTHER STORY TIMES
Sensory Story Time • 2-7 years old • Saturday, Sept.16, at 11 a.m.
Prince and Princess Story Time • 2-7 years old • Oct. 14 & Nov. 11 at 11 a.m.
Saturday Morning Story Time • 2-7 years old • Oct. 28 & Nov. 25 at 11 a.m.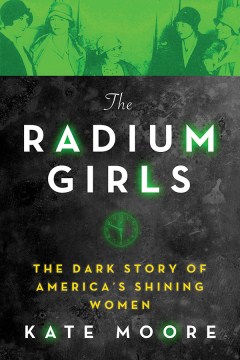 The Radium Girls: The Dark Story of America's Shining Women by Kate Moore
Reviewed by: Genna Buhr, Library Director
Genre: History, Non-Fiction
Suggested Age: Adults, Teens
What is the book about?: In the early years of the last century, young women in locations across the nation took to the working world by becoming painters of clock and gauge faces. Using paint designed to glow by the addition of recently discovered radium, the women skillfully hand-painted dials in factories using materials and techniques provided to them by the management. The women enjoyed the independence and friendships the work provided. However, many eventually started having extreme medical issues and suspected it was due to the working conditions that they were told were safe. The Radium Girls tells the stories of some of these women, the distress they experienced, and the fight they led to ensure that justice would be upheld.
My Review: The story of the radium girls wasn't new to me. I grew up near Ottawa, Illinois, where a good portion of this book is set and also grew up hearing decades old gossip and whispers about the glowing ladies. The courthouse still stands directly across from my favorite pizza place, and as I read the book, I wondered how the lives of these women many have intertwined with my family members that came before me. One of the women was from my hometown, and my great-grandmother worked at a clock factory where many of the dials were shipped. The stories of these women have been told in bits and pieces, and I was really excited to learn that Moore was writing their story cohesively and in a way that it could be shared and consumed by a larger audience. Moore doesn't disappoint and works hard to show the strength and resilience of these women and the depths of their struggles in fighting for their health, for their places in their communities, for their futures, and for justice. The Radium Girls presents a well-paced, personal look at those everyday women whose lives strengthened the movement for safety in the workplace and whose experiences led to labor legislation still in effect today. 
Three Words That Describe This Book: Empowering, Enlightening, Inspiring
Give This a Try if You Like… Erin Brockovich, Hidden Figures, Erik Larson's books
Rating: 5/5
About FDL Reads
Welcome to FDL Reads, weekly book reviews from Fondulac District Library.  Librarians (and possibly some other guest reviewers) review all types of books, from children's picture books, young adult favorites, to the latest adult thriller, and share their thoughts each week at fondulaclibrary.org. If the book is owned by Fondulac District Library (or another local library), you'll see a direct link to the catalog entry and whether or not it is available.  If it is checked out or at another local library, you will be able to place a hold as long as you have your library card and PIN numbers. As with any book review, these are our opinions…we disagree amongst ourselves about books frequently.  We all have different likes and dislikes, which is what makes the world an interesting place. Please enjoy, and keep on reading!
In planning for the Total Eclipse of the Sun on August 21, Fondulac District Library applied for and was fortunate to receive a grant from the STAR Library Network (STAR_Net), with support from the Moore Foundation, Google, NASA, the Research Corporation, and National Science Foundation.  The library has received a limited amount of solar eclipse viewing glasses through the StarNet grant to support the library's related programs. Participants in any of the library's astronomy and eclipse related programming through August 10 will receive a pair. (Please see our event calendar at http://fondulaclibrary.evanced.info/signup/calendar for more information about library programming.)
Starting August 11, individuals may come to the Youth Services department at the library to receive a pair while supplies last. Because of the limited availability, the library is unable to fulfill requests from groups or other large requests.
The Riverfront Museum in Peoria is selling safe viewing glasses in the Museum Store (www.peoriariverfrontmuseum.org). Additionally, the National Science Foundation's American Astronomical Society's Reputable Vendors page also provide links to resellers who may still have eclipse glasses in stock for purchase. (The library has heard from several sources that many vendors are sold out.)
More eclipse information:
How to View the 2017 Solar Eclipse Safely