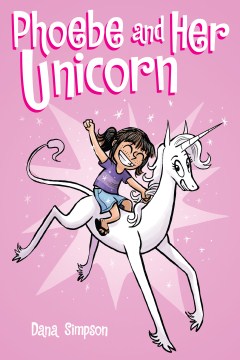 Phoebe and her Unicorn by Dana Simpson
Reviewed by: Sylvia Shults, Circulation
Genre: Fantasy (Graphic Novel)
Suggested Age: Tweens, Teens
What is the book about?: This fun, energetic graphic novel series takes a different look at childhood. Phoebe goes to her thinking spot to escape the latest unfairness of being a kid, and skips a rock as she sulks. The rock hits a unicorn who's been gazing at her own loveliness in the pond. Granted a wish, Phoebe wishes for the unicorn, Marigold Heavenly Nostrils, to be her best friend. What happens next is a Calvin-and-Hobbes style friendship, reinvented for the 21st century.
My Review: Just as the adventures of Calvin and his stuffed tiger transcended cartoons and appealed to adults too, this series isn't just for kids to enjoy. I found it interesting that although comparisons to the older cartoon are inevitable, there are significant differences — for example, Phoebe's parents are perfectly capable of seeing Marigold and having conversations with her. Marigold interacts with every other character – not just Phoebe. (And Phoebe is much less of a holy terror than Calvin was.) A nifty addition to the books can be found in the back pages, where the author puts extra fun stuff, like drawing lessons and recipes. I fully intend to make Unicorn Poop Cookies for my next birthday party. Why should ten-year-olds have all the fun? I binge-read all five of the books in this series one Friday afternoon, sitting on the porch swing with a glass of juice. Every once in a while, it's fun to lose yourself in a book, pretend you're ten, and have a unicorn for a best friend.
Three Words That Describe This Book: Funny, light-hearted, sly
Give This a Try if You Like… Calvin and Hobbes
Rating: 5/5
About FDL Reads
Welcome to FDL Reads, weekly book reviews from Fondulac District Library.  Librarians (and possibly some other guest reviewers) review all types of books, from children's picture books, young adult favorites, to the latest adult thriller, and share their thoughts each week at fondulaclibrary.org. If the book is owned by Fondulac District Library (or another local library), you'll see a direct link to the catalog entry and whether or not it is available.  If it is checked out or at another local library, you will be able to place a hold as long as you have your library card and PIN numbers. As with any book review, these are our opinions…we disagree amongst ourselves about books frequently.  We all have different likes and dislikes, which is what makes the world an interesting place. Please enjoy, and keep on reading!