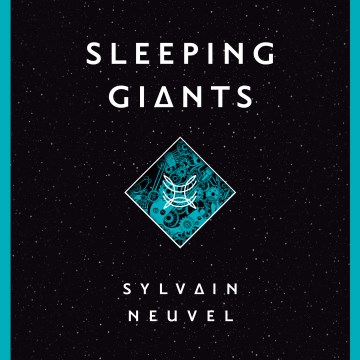 Sleeping Giants by Sylvain Neuvel 
Reviewed by: Susie Rivera, Reference Specialist
Genre: Science Fiction
Suggested Age: Adults
What is the book about?: When Rose Franklin was a little girl, she found a giant metal hand buried in her back yard. Rose becomes a scientist and devotes her career to unlocking the secrets of the hand's origin and purpose.  She is joined by a team of experts, including Vincent Couture and Kara Resnik. Vincent is a linguist tasked with deciphering glowing symbols that accompany the object.  Kara is military pilot who discovers another giant piece of the mysterious puzzle.  The entire team soon finds themselves in the midst an international race to control the new technology.
My Review: Told in a collection interview transcripts, journal entries, and mission logs, Sleeping Giants tackles big questions like humanity's place in the universe, weapons of mass destruction, and technological responsibility.  Sylvain Neuvel's debut novel is engaging and fast-paced. It's hard to put the book down as chapters often leave the reader on a cliffhanger.  I actually listened to the audiobook and thoroughly enjoyed the full cast production.  It was truly worthy of being nominated for an Audible Award in 2017.
Three Words That Describe This Book: Exciting, Engaging, Thought-provoking
Give This a Try if You Like… Ancient Aliens, Mecha Anime
Rating: 5/5
About FDL Reads
Welcome to FDL Reads, weekly book reviews from Fondulac District Library.  Librarians (and possibly some other guest reviewers) review all types of books, from children's picture books, young adult favorites, to the latest adult thriller, and share their thoughts each week at fondulaclibrary.org. If the book is owned by Fondulac District Library (or another local library), you'll see a direct link to the catalog entry and whether or not it is available.  If it is checked out or at another local library, you will be able to place a hold as long as you have your library card and PIN numbers. As with any book review, these are our opinions…we disagree amongst ourselves about books frequently.  We all have different likes and dislikes, which is what makes the world an interesting place. Please enjoy, and keep on reading!