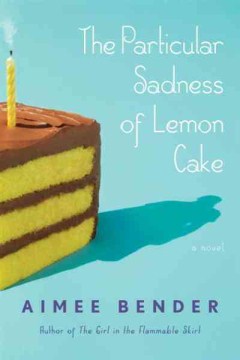 The Particular Sadness of lemon Cake by Aimee Bender
Reviewed by: Dawn Dickey, Library Volunteer
Genre: Coming-of-age fiction
Suggested Age: Adults, Teens
What is the book about?: Rose first tastes the emotion in cooked items as she nears her 9th birthday. She arrives home from school to find her mother preparing to bake a cake. On the counter are eggs, sugar, flour, lemon peel, chocolate icing, and rainbow sprinkles.  When the cake finishes baking, Rose sneaks a taste. The bite was initially delicious, but that impression is quickly replaced. Rose's mouth filled "with the taste of smallness, the sensation of shrinking, of upset, tasting a distance [she] somehow knew was connected to [her] mother." Her second taste – although yummy – includes "in each bite:  absence, hunger, spiraling, hollows." These are Rose's first bites of tasting the emotion in her food, food of any and all types made by and grown by all kinds of people of varying emotions from many places. It is, at first, a heavy and frightening burden, made worse because nearly no one believes what she is encountering.
My Review: I don't normally like coming-of-age fiction, but the premise of this book – as well as the delicious cake on the cover – intrigued me. I ended being very glad that I read this book! It's written in the first person, so you are immediately drawn into Rose's life and what she is thinking and feeling. Page by page, her emotional tasting expands, leading her to learn unimagined things about her dysfunctional family:  a rather depressed mother who hasn't found satisfaction in life, a father who is a good provider but retreats emotionally and a brother who echoes his parents' dissatisfaction with life and emotional retreat. While my description here might make the book sound rather depressing to read, in fact it was quite interesting to read how each of the characters coped (or didn't cope) with their lives and how Rose grows into her exceptional gift.  I was left at the end with a sense of hope that a person could learn to cope with exceptional gifts and daunting circumstances. It's a creative and satisfying read!
Three Words That Describe This Book: Extrasensory, Imaginative, Psychological
Give This a Try if You Like… thinking about where food comes from or reading about psychic phenomena
Rating: 5/5
About FDL Reads
Welcome to FDL Reads, weekly book reviews from Fondulac District Library.  Librarians (and possibly some other guest reviewers) review all types of books, from children's picture books, young adult favorites, to the latest adult thriller, and share their thoughts each week at fondulaclibrary.org. If the book is owned by Fondulac District Library (or another local library), you'll see a direct link to the catalog entry and whether or not it is available.  If it is checked out or at another local library, you will be able to place a hold as long as you have your library card and PIN numbers. As with any book review, these are our opinions…we disagree amongst ourselves about books frequently.  We all have different likes and dislikes, which is what makes the world an interesting place. Please enjoy, and keep on reading!