2017 Summer Reading Program "Reading By Design"
Another successful summer reading program is in the books.  This year we had over 1000 participants!  We would like to thank the businesses and civic organizations who donated to the program and to all who participated.
1KB4K: 1,000 BOOKS BEFORE KINDERGARTEN
1KB4K is a library initiative that promotes reading 1,000 books to preschoolers before they begin Kindergarten. It's easy to do, and the child gets a free book every time they read and report 100 books. For additional information or to register, visit the Youth Services Department.
Anytime Activities
Even when there's not a program scheduled, there's always something fun to do at the library! Stop by the desk in the Youth Services Department to learn more about the library's current Anytime Activity, a craft, game, or project kids can do whenever they visit the library.
Toys & Games
Numerous toys and games are available for your child to play with in the library's Youth Services Department. The library offers a wide selection of board and card games, as well as a train table, Lego table, puzzles, and a puppet theater. Stop by and enjoy a delightful and entertaining morning or afternoon at the library!
Help Your Preschooler Succeed In School
According to United Ways Success By Six Program, parents are a child's first and most important teachers, and future academic success begins at home. By actively participating in their child's early education, parents can increase their child's performance, growth, and reading and writing skills. Below is a link to monthly activities to help your child on the road to success.
We're just a click away!
Susan Elder, Youth Services Manager
In planning for the Total Eclipse of the Sun on August 21, Fondulac District Library applied for and was fortunate to receive a grant from the STAR Library Network (STAR_Net), with support from the Moore Foundation, Google, NASA, the Research Corporation, and National Science Foundation.  The library has received a limited amount of solar eclipse viewing glasses through the StarNet grant to support the library's related programs. Participants in any of the library's astronomy and eclipse related programming through August 10 will receive a pair. (Please see our event calendar at http://fondulaclibrary.evanced.info/signup/calendar for more information about library programming.)
Starting August 11, individuals may come to the Youth Services department at the library to receive a pair while supplies last. Because of the limited availability, the library is unable to fulfill requests from groups or other large requests.
The Riverfront Museum in Peoria is selling safe viewing glasses in the Museum Store (www.peoriariverfrontmuseum.org). Additionally, the National Science Foundation's American Astronomical Society's Reputable Vendors page also provide links to resellers who may still have eclipse glasses in stock for purchase. (The library has heard from several sources that many vendors are sold out.)
More eclipse information:
How to View the 2017 Solar Eclipse Safely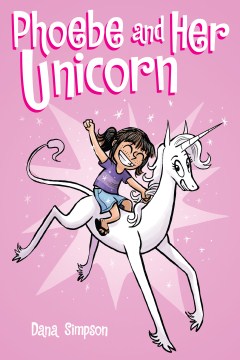 Phoebe and her Unicorn by Dana Simpson
Reviewed by: Sylvia Shults, Circulation
Genre: Fantasy (Graphic Novel)
Suggested Age: Tweens, Teens
What is the book about?: This fun, energetic graphic novel series takes a different look at childhood. Phoebe goes to her thinking spot to escape the latest unfairness of being a kid, and skips a rock as she sulks. The rock hits a unicorn who's been gazing at her own loveliness in the pond. Granted a wish, Phoebe wishes for the unicorn, Marigold Heavenly Nostrils, to be her best friend. What happens next is a Calvin-and-Hobbes style friendship, reinvented for the 21st century.
My Review: Just as the adventures of Calvin and his stuffed tiger transcended cartoons and appealed to adults too, this series isn't just for kids to enjoy. I found it interesting that although comparisons to the older cartoon are inevitable, there are significant differences — for example, Phoebe's parents are perfectly capable of seeing Marigold and having conversations with her. Marigold interacts with every other character – not just Phoebe. (And Phoebe is much less of a holy terror than Calvin was.) A nifty addition to the books can be found in the back pages, where the author puts extra fun stuff, like drawing lessons and recipes. I fully intend to make Unicorn Poop Cookies for my next birthday party. Why should ten-year-olds have all the fun? I binge-read all five of the books in this series one Friday afternoon, sitting on the porch swing with a glass of juice. Every once in a while, it's fun to lose yourself in a book, pretend you're ten, and have a unicorn for a best friend.
Three Words That Describe This Book: Funny, light-hearted, sly
Give This a Try if You Like… Calvin and Hobbes
Rating: 5/5
About FDL Reads
Welcome to FDL Reads, weekly book reviews from Fondulac District Library.  Librarians (and possibly some other guest reviewers) review all types of books, from children's picture books, young adult favorites, to the latest adult thriller, and share their thoughts each week at fondulaclibrary.org. If the book is owned by Fondulac District Library (or another local library), you'll see a direct link to the catalog entry and whether or not it is available.  If it is checked out or at another local library, you will be able to place a hold as long as you have your library card and PIN numbers. As with any book review, these are our opinions…we disagree amongst ourselves about books frequently.  We all have different likes and dislikes, which is what makes the world an interesting place. Please enjoy, and keep on reading!
Fondulac District Library carries a variety of popular magazines for both adults and children. Enjoy your favorite titles without the cost and hassle of managing a subscription.
All issues can be checked out for one week and renewed once.
Cardholders can have a maximum of 10 magazines checked out at any time.
The library keeps issues for the current calendar year and one previous calendar year.
Choose from a selection of more than 75 titles for adults, including, but not limited to:
Better Homes & Gardens
ESPN the Magazine
Family Handyman
Field & Steam
InStyle
Make
This Old House
Time
Magazines for kids include, but are not limited to:
American Girl
Highlights
National Geographic Kids
Sports Illustrated for Kids
A complete list of the library's magazine subscriptions can be viewed here.
Please visit or call the library at (309) 699-3917 with questions.